Ladakh is a vast and mountainous region in the rain shadow of the Himalaya in northern India. I visited Ladakh to trek the length of the Markha Valley, but unfolding our map my partner and I found a diversity of landscapes and destinations. With our legs still recovering from a few 5000 metre-plus ascents, we decided to embark on a road trip and follow the Spice Road to India's last outpost, Turtuk.
The Land of High Passes
Ladakh has strong cultural ties to the Himalayas. Its name comes from the Tibetan phrase la-dvags, meaning "land of high passes", apt considering most of the region sits above 3,000 metres in altitude.
Ladakh's mountains extend to the borders of China and Tibet. Due to geographical and cultural links, Ladakh is known as "Little Tibet". The region was inhabited by Tibetan nomads from around 500 BCE. Since then, Tibetan Buddhism has become the dominant religion across Ladakh. Whitewashed monasteries perch precariously on rugged mountainsides. Crumbling chortens (Buddhist monuments) and fluttering prayer flags abound. Crimson-robed monks turn prayer wheels gently, humming om mani padme hum.
Though Ladakh is an enclave of Tibetan influence, its culture is distinct. Snowcapped peaks and formidable passes have fortified Ladakhi culture for millennia. Experiencing Ladakh's diversity began for us in its capital city, Leh.
Traversing India's Silk Road
Leh is a bustling city beneath a hilltop palace. It is a maze of alleys, marketplaces, and businesses, many catering to tourists. Stars aligned and we quickly managed to book a three-day journey to Turtuk in a shared Jeep.
The road trip started with a high. We stopped for chai and photos at the top of Khardung La pass. At a dizzying altitude of 5,359 metres, this is one of the world's highest paved passes. The pit stop was bustling with other travelers, many aboard Royal Enfield motorcycles.
The highway traces one of the ancient trading routes of the Spice Route, and I found myself wondering how strange this modern convoy would appear to bygone explorers. Soon, we were back on the twisting road, one edge disappearing into an abyss.
The Nubra Valley
The valley widened gradually as we descended from the pass, while the road turned at a meditative pace. I was lost in thought when sand dunes suddenly appeared. We had arrived at the Nubra Valley, a desert landscape approximately 125 kilometres (4 hours) from Leh, dotted with shrubs and Bactrian camels.
Some camels sat while others shifted on their toed feet. Their expressive faces munched and spat while visitors snapped photos or hopped on for a short ride. These camels are living remnants of India's Silk Route heritage. Though their ancestors would have carried valuable loads of spices, silk, and cashmere instead of tourists, the striking landscape would have evoked a similar sense of awe.
We spent the night glamping in Hunder, the sleepy Nubra Valley town that offers a cluster of accommodations. With our bellies full from a hearty feast of dal, we stargazed through the flap of our tent and admired constellations that have guided so many Silk Route travelers before us.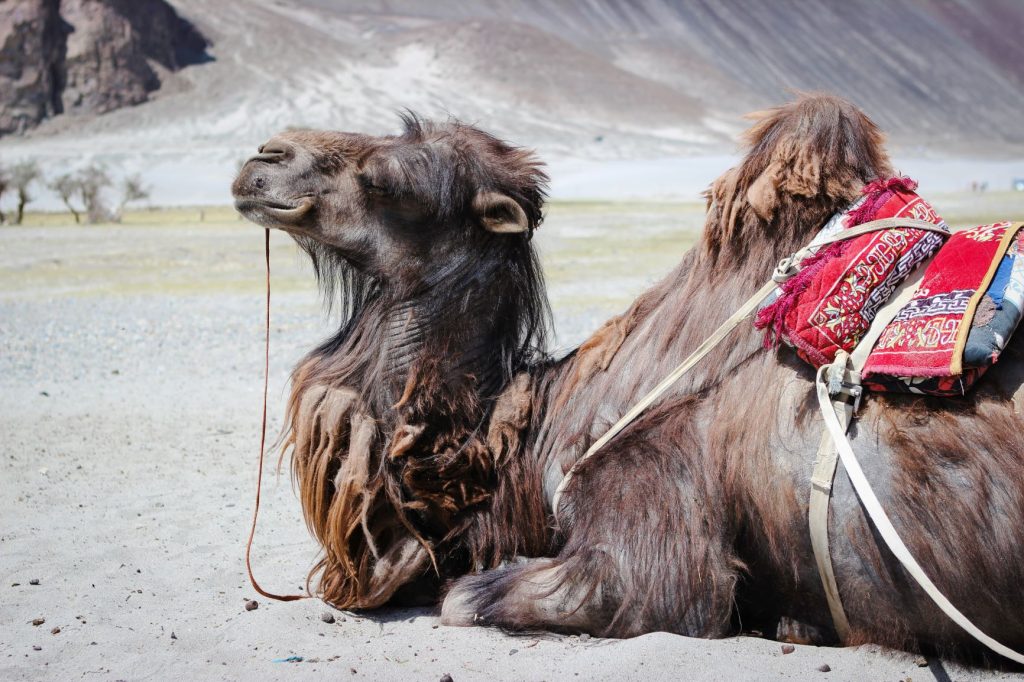 India's Baltistani Enclave
The next morning, we travelled another 85 kilometres. We passed monasteries and villages, small dots engulfed by rugged wilderness and military bases until reaching the edge of Ladakh. "This is Turtuk. See that over there?" Our driver pointed to a nearby mountain. "That's Pakistan." This explained the military presence.
Turtuk is a mountain village of Baltistani heritage (Baltistan being a mountainous region of Pakistan just south of K2, with cultural ties to Tibet). Turtuk first opened to tourists in 2010, the same year severe floods wreaked havoc on the region. Many guesthouses have sprung up since.
We found ours along a narrow cement pathway that crossed the Shyok River at a hanging bridge. We meandered past weathered wooden houses and verdant fields. A stream gurgled through the village. Locals gave us shy but curious smiles. When we reached our guest house, we were greeted with hot chai.
Like the Nubra Valley, Turtuk was a stop along the Silk Route. It belonged to the Yabgo Dynasty, an empire that lasted from 800 to 1800 CE. It was an independent valley state ruled by a royal lineage for much of its history. However, Turtuk has experienced vast changes in recent centuries.
Turtuk was claimed by Pakistan in 1847 after British India broke up. Borders were redrawn after the Indo-Pakistani War of 1971, and Turtuk was officially embraced by Ladakh. The majority of Baltistan remained across the Line of Control (LoC) that demarcates Pakistani territory. A secluded and sensitive area, Turtuk is the last village in India before the LoC, and one of the few places in India to experience Balti culture. Situated so close to the border, many citizens have family living on the other side of the LoC. We were told that Turtuk residents share mixed feelings about their status and loyalty. But, without a grasp of the local languages (Balti, Hindi, Ladakhi, and Urdu), we had no way of inquiring further.
Treasures of Turtuk
While signs of Turtuk's Tibetan roots linger, Turtuk is predominantly Muslim. We visited Turtuk's 16th-century mosque, unique for its wooden minaret and blend of Persian and Buddhist architecture. There are several mosques in the village, some old and some new, from which the call to prayer rings out in intervals. We also visited Turtuk's historic polo ground, a favorite Balti pastime. Hiking trails lead further afield, to the ruins of Brokpa's Fort, Turtuk Waterfalls, and Siachen Glacier. K2's majestic summit can be also seen from parts of the village.
For me, the highlight was visiting Turtuk Palace. The 16th-century royal summer home is a traditional wooden structure in a charming state of wear. It proudly serves as a museum and is presided over by Yabgo Kacho Mohammad Khan, a descendant of Turtuk's kings. Locals still regard him as the King of Turtuk, though he's now a figurehead.
The king led us on a tour of the summer palace, sharing details about his ancestry, and explaining the significance of family heirlooms. The museum housed relics like royal garments and headdresses, as well as hunting bows and lapis lazuli-encrusted swords, all handed down over centuries.
Musings From India's Last Outpost
We began our return trip the next morning. We made a pit stop at Diskit Monastery, the oldest and largest in the Nubra Valley. Driving a little further, we stopped at the colourful statue of Maitreya Buddha. It stands 32 metres tall, and its viewing deck offers sweeping views up and down the Nubra Valley.
I looked back towards Turtuk, then up ahead towards Leh. Watching cars travel through the valley like ants, I thought about our return journey. The Ladakhi perception of reality is circular, and life is seen as a cycle of many departures and returns.
Though still wrapping my head around Buddhist principles, I felt as though I was leaving Turktuk with a little secret to be treasured and safeguarded. Turtuk has long benefitted from travelers passing through. As with other villages of the ancient Silk Route trading route, their history and culture were influenced by trade and cultural exchange. Though Turtuk's history is enshrined in the palace, it continues to evolve. More and more travelers visit each year. I can only hope that as more people discover Turtuk's rich heritage, they will tread lightly and continue the region's ancient tradition of cultural exchange.

Article by Trixie Pacis